Welcome to Mike Toler Chrysler Dodge Jeep RAM FIAT! Our state of the art dealership is located at 5340 Hwy 70 in Morehead City, NC. We offer shoppers in Eastern North Carolina a full range of New, Certified Pre-Owned and Pre-Owned vehicles to choose from at prices that can't be beat. We are proud to serve you whether you are visiting from Jacksonville, Hubert, Swansboro, New Bern, Havelock and Cherry Point, as well as all of the surrounding communities in Carteret, Craven & Onslow counties.  We've been serving customers in eastern North Carolina for over a decade and our experienced sales staff is looking forward to helping you find the right vehicle that suits your needs and budget.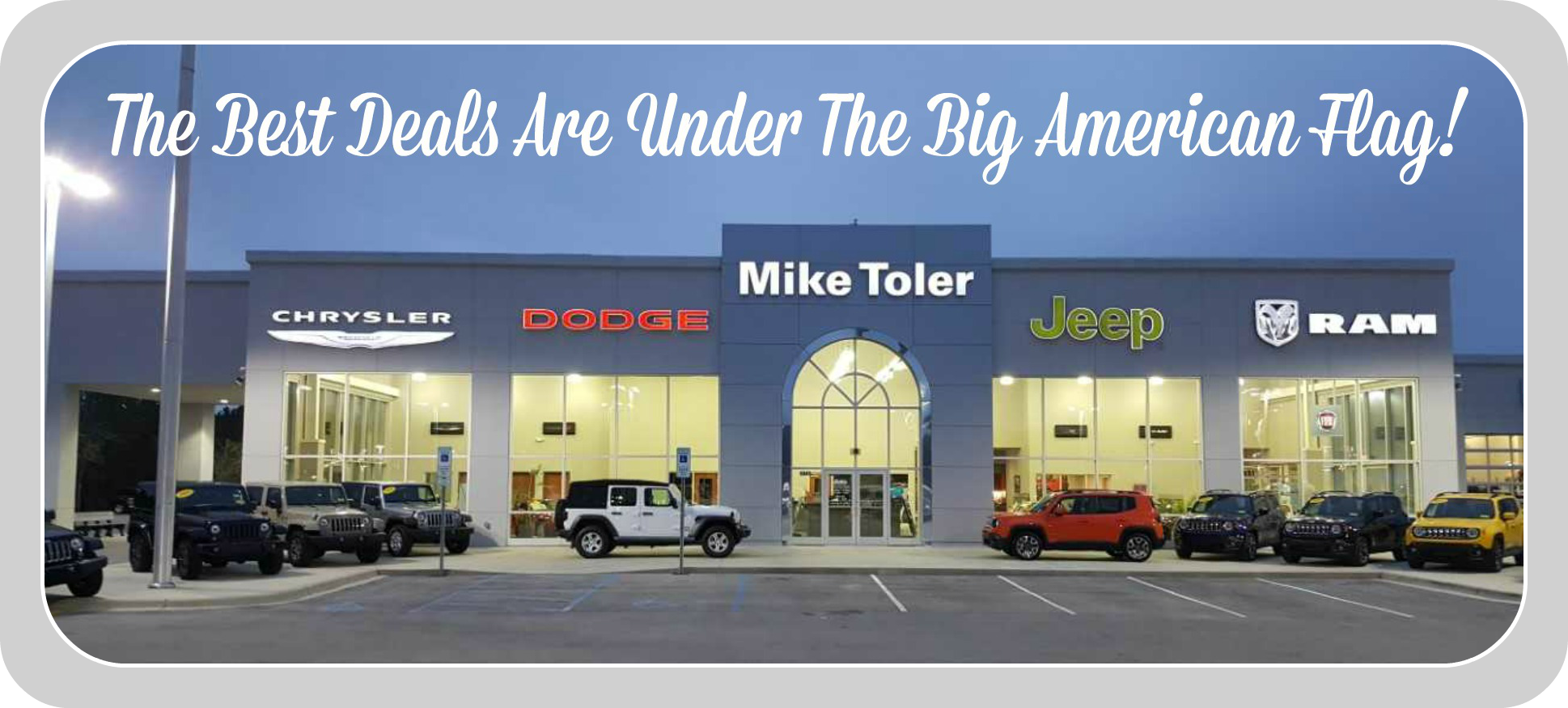 There's nothing more exciting than shopping for a new vehicle at a Jeep, Ram, Chrysler & Dodge Dealership. We have the most current makes and models available on the market today. The Chrysler Pacifica has the exclusive stow-n-go seating with all all the options you could ask for in today's minivan.  
Our lineup of "America's Longest-Lasting Pickups" continues to dominate the market.  Here you'll find trucks for personal use, like the 2023 RAM 1500 or the new 2023 Jeep Gladiator, as well as trucks for workhorses, like the 2023 RAM 2500, RAM 3500, RAM Promaster, and the RAM Promaster City.  Browse through and make sure to check out the special editions we have available, including the RAM 1500 Rebel.
Top Rated Jeep Dealership Near You
If it's a Jeep product you are looking for, be sure to check out the 2023 Jeep Cherokee, the 2023 Jeep Compass, and 2023 Jeep Grand Cherokee. They are all tried and true Jeep options. Let the redesigned Jeep Compass lead your way in the revamped design. If 3rd row seating is a must, you will definitely want to consider the 2023 Wagoneer and 2023 Jeep Grand Cherokee L as options. If a sedan is more your style, take a look at the classic Chrysler cars for sale. 
The Full Picture...an Award Winning RAM, Jeep, Dodge & Chrysler Dealership
As you can tell by now, we have a huge variety of new Chrysler, Dodge, Jeep, RAM  and FIAT products, but that's not all. We also have a growing inventory of Certified Pre-Owned and Pre-Owned vehicles in Morehead City for just about any budget. Once you have picked out your vehicle, we have finance specialists on staff to help you sort out the best options for financing and make your purchasing experience as stress-free as possible! When you are ready for service and maintenance, be sure to turn to our state of the art auto service and repair center. Our skilled technicians are committed to using only certified parts, so you can feel confident using our auto parts department at Mike Toler. 
We are excited to welcome you to our new dealership and look forward to your visit!
Sales Hours
Monday

07:30AM - 05:30PM

Tuesday - Friday

08:30AM - 07:00PM

Saturday

09:00AM - 05:00PM

Sunday

Closed
Service & Parts Hours
Monday

07:30AM - 05:30PM

Tuesday - Friday

07:30AM - 06:00PM

Saturday

07:30AM - 05:00PM

Sunday

Closed
 2 days agoNEW
KC was extremely helpful and got me in the exact gladiator I was looking for. Thank you!


3 weeks agoNEW
Purchased a new Gladiator. The experience was easy and flawless. From my initial inquiry with Chris to my final vehicle inspection and paperwork with Paul & Randy, everything was straight forward and detailed. Mike Toler took the time to touch base with me throughout the process. Had a few additions to the vehicle and was delivered beyond my expectations. Have also had the pleasure to work with their service department in the past. They always treat me like a king. Special shout out to Zach and Tom, who display what true customer service is meant to be.
3 weeks agoNEW
We highly recommend Mike Tolar CDJRF dealership for all your vehicle needs. We just purchased a 2023 Jeep Wrangler Sahara. It was one of the smoothest transactions from start to finish. Thank you!


3 weeks agoNEW
These guys are great, even brought the vehicle to me on the ferry !! Easy buying process, Chris, Mike, Todd the detail guy are  great!
2 weeks agoNEW
Kristen Tilley
🌟🌟🌟🌟🌟
3rd vehicle purchased from KC. He is a great person and easy to work with. The dealership is VERY clean.  I will always come to Mike Toler to purchase my Jeeps!
Ed Merman
🌟🌟🌟🌟🌟
Best place to purchase and service your vehicles. This is a dealership that really cares about the customer and the experience. Kudos to the entire crew. Special thanks to Mike W the salesman that walked me through this painless process.This is my first purchase at this dealership and my second that I will be servicing here.
Brandina Lynn
🌟🌟🌟🌟🌟
James Halterman
🌟🌟🌟🌟🌟
⭐⭐⭐⭐⭐
I really appreciate the excellent service at Mike Toler when purchasing my brand new Sahara jeep. Everyone was very helpful! Thank  you Robert, Randy and Chris!
⭐⭐⭐⭐⭐
Picked up my Jeep here back in 2021 and have been bringing it back for every service appointment required for it. Their schedule is very flexible and their service is unmatched in comparison to other dealerships of its type in the local area.
⭐⭐⭐⭐⭐
Susan Laurence 
Robert my salesman was great! Everyone was super friendly.
⭐⭐⭐⭐⭐
KC listened to our needs and wants and made it happen. Great sense of humor and believe me we messed with him a lot.
I would 💯 recommend Mike Toler, Morehead.
⭐⭐⭐⭐⭐
Great people, great service!
⭐⭐⭐⭐
Staff is always helpful and friendly.
⭐⭐⭐⭐⭐
I had a great experience with the sales department! They were able to get me in the vehicle I wanted! They were kind and honest from the first contact I had with them. I've had my vehicle serviced there as well and they are great! The atmosphere is relaxed and warm. I was treated with respect and dignity, which is awesome after a horrid experience with… - Cari-Lynn
 ⭐⭐⭐⭐⭐
I would like to start by saying Raven is a knowledgeable and very friendly yet professional salesperson. It was honestly a pleasure to buy my first Chrysler vehicle from him. It was also refreshing to find a dealership that is so customer focused. Employees from all departments have been approachable and presented a very welcoming environment. In many of the dealerships that I have dealt with in the past the employees seem stressed to make a sale and they project that urgency onto the customer but that is definitely not the case at Mike Toler Chrysler Dodge Jeep Ram FIAT ! It has been a wonderful buying experience overall and I am feeling confident I made my purchase from the best salesperson and dealership in North Carolina !
Looking forward to working together with the service dept to keep my 2023 Chrysler Pacifica Limited in Fathom Blue on the road.
DeAnne Hawkes
⭐⭐⭐⭐⭐
What a great experience. Just purchased a new vehicle from the folks at Toler, and would highly recommend this dealership. These people work like a finely tuned engine. Special shout out to Sherrie and KC. Thanks again Jeff
⭐⭐⭐⭐⭐
Professional & courteous
⭐⭐⭐⭐⭐
Great employees, excellent service on my Jeep
Robert made our car buying experience wonderful! He was friendly, funny, and knowledgeable. Never did we feel pressured into buying something we didn't want. The team worked with us on price and financing, and got us exactly what we needed at an affordable rate. Highly recommend! If you go, ask for Robert!
⭐⭐⭐⭐⭐
Great car buying experience again!  Robert Russell is wonderful as well as the entire team at Mike Toler.