Welcome to Mike Toler Chrysler Dodge Jeep RAM FIAT! Our state of the art dealership is located at 5340 Hwy 70 in Morehead City, NC. We offer shoppers in Eastern North Carolina a full range of New, Certified Pre-Owned and Pre-Owned vehicles to choose from at prices that can't be beat. We are proud to serve you whether you are visiting from Jacksonville, Hubert, Swansboro, New Bern, Havelock and Cherry Point, as well as all of the surrounding communities in Carteret, Craven & Onslow counties.  We've been serving customers in eastern North Carolina for over a decade and our experienced sales staff is looking forward to helping you find the right vehicle that suits your needs and budget.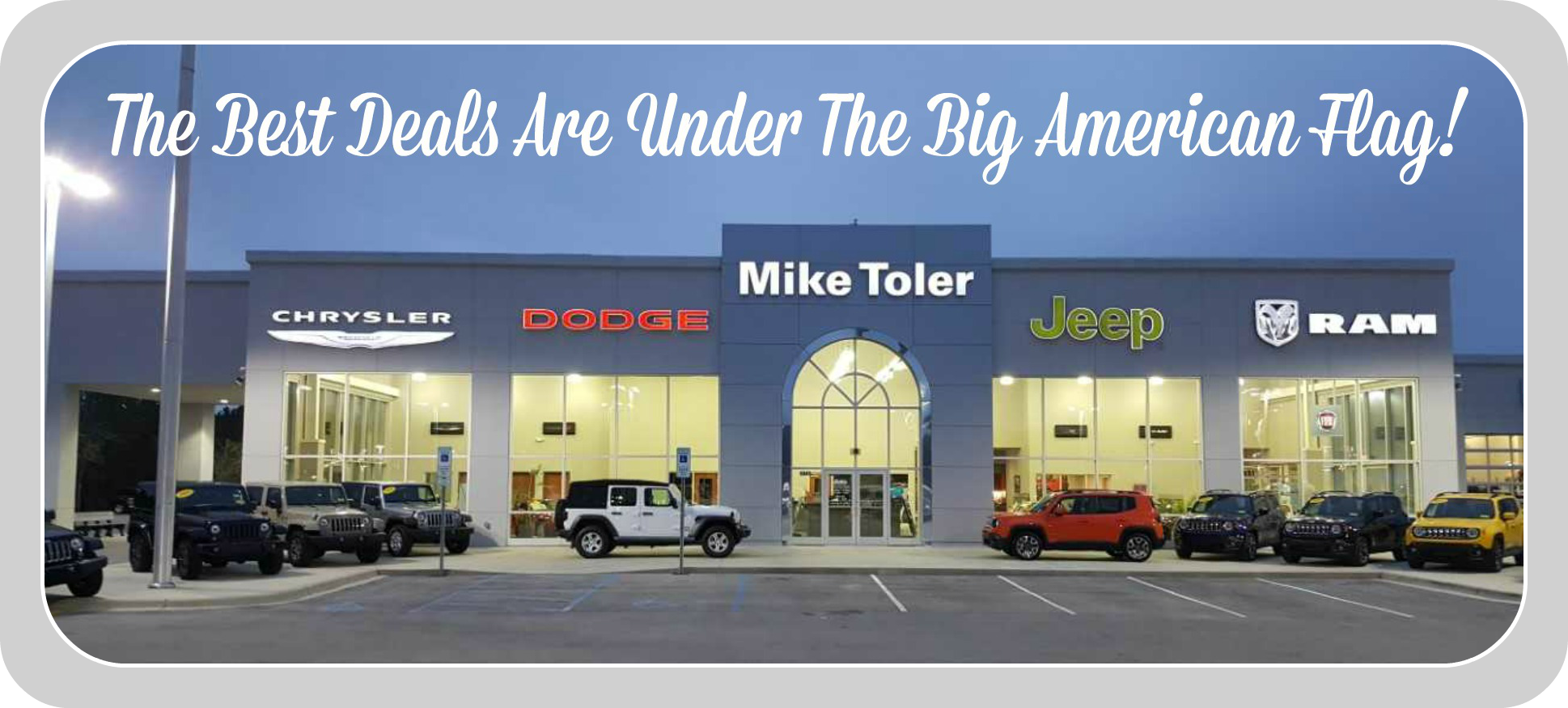 There's nothing more exciting than shopping for a new vehicle at a Jeep, Ram, Chrysler & Dodge Dealership. We have the most current makes and models available on the market today. The Chrysler Pacifica has the exclusive stow-n-go seating with all all the options you could ask for in today's minivan.  
Our lineup of "America's Longest-Lasting Pickups" continues to dominate the market.  Here you'll find trucks for personal use, like the 2022 RAM 1500 or the new 2022 Jeep Gladiator, as well as trucks for workhorses, like the 2022 RAM 2500, RAM 3500, RAM Promaster, and the RAM Promaster City.  Browse through and make sure to check out the special editions we have available, including the RAM 1500 Rebel.
Top Rated Jeep Dealership Near You
If it's a Jeep product you are looking for, be sure to check out the 2022 Jeep Cherokee, the 2022 Jeep Compass, and 2022 Jeep Grand Cherokee. They are all tried and true Jeep options. Let the redesigned Jeep Compass lead your way in the revamped design. If 3rd row seating is a must, you will definitely want to consider the 2022 Wagoneer and 2022 Jeep Grand Cherokee L as options. If a sedan is more your style, take a look at the classic Chrysler cars for sale. 
The Full Picture...an Award Winning RAM, Jeep, Dodge & Chrysler Dealership
As you can tell by now, we have a huge variety of new Chrysler, Dodge, Jeep, RAM  and FIAT products, but that's not all. We also have a growing inventory of Certified Pre-Owned and Pre-Owned vehicles in Morehead City for just about any budget. Once you have picked out your vehicle, we have finance specialists on staff to help you sort out the best options for financing and make your purchasing experience as stress-free as possible! When you are ready for service and maintenance, be sure to turn to our state of the art auto service and repair center. Our skilled technicians are committed to using only certified parts, so you can feel confident using our auto parts department at Mike Toler. 
We are excited to welcome you to our new dealership and look forward to your visit!
Sales Hours
Monday - Tuesday

08:30AM - 07:00PM

Wednesday

09:00AM - 05:00PM

Thursday

Closed

Friday

08:30AM - 07:00PM

Saturday

09:00AM - 05:00PM

Sunday

Closed
Service & Parts Hours
Monday - Tuesday

07:30AM - 06:00PM

Wednesday

07:30AM - 05:00PM

Thursday

Closed

Friday

07:30AM - 06:00PM

Saturday

07:30AM - 05:00PM

Sunday

Closed
⭐⭐⭐⭐⭐
 👩 Sherrie 
⭐⭐⭐⭐⭐
My 7th vehicle purchase went as smoothly as the first.  Kudos to the entire dealership for being consistent in doing what they say they are going to do.
⭐⭐⭐⭐⭐
Honestly one of the easiest car purchases I've ever made. Chris, Randy and KC made the process smooth and fast. I made the deal over the phone and I was in and out in 30 minutes! I passed several other Dodge dealerships because I've had great service from MT before. Thank y'all for everything and I'm TRULY enjoying my new Charger Daytona!
⭐⭐⭐⭐⭐ 13 hours ago
The user didn't write a review, and has left just a rating.
Mike Toler Chrysler Dodge Jeep RAM FIAT (owner)
Just now
Thank you for using our Service Department and for taking the time to do a review for us.
⭐⭐⭐⭐⭐ 2 weeks ago
Can't say enough wonderful things about the service department at Mike Toler Chrysler in Morehead City, NC. After being given the run around by the Chrysler dealership in Lexington, NC, we decided to visit Mike Toler's while on an extended visit in the area. Their service team immediately stepped up and processed the warranty covered repair of a paint issue. What had already taken more than a month and was still not resolved at the other dealership was handled and completed in 1 week, they even provided us with a loaner vehicle! Everyone was courteous, efficient and genuinely a pleasure to work with. We didn't purchase this Chrysler vehicle from them but when we need our next vehicle, if possible, we will be back for another visit!
Mike Toler Chrysler Dodge Jeep RAM FIAT (owner)
2 weeks ago
Thanks for the nice report card, come back anytime. Mike
⭐⭐⭐⭐⭐ 3 weeks ago
We had a problem with our air suspension while staying on Emerald Isle. After the dealer in Jacksonville told us they wouldn't work on it for 3 weeks, we called here expecting a similar answer. To our surprise they said they would check it out the next day. By the time we took it in, the truck was behaving normally and we figured the problem would be hard to find but didn't want to count on it to function properly pulling our trailer 6 hours. They found the problem anyway, had the part shipped next day air and got us out of there. The service rep, Jordan, communicated well both directions. Thanks guys!
Mike Toler Chrysler Dodge Jeep RAM FIAT (owner)
2 weeks ago
Glad everything worked out. Thank you
⭐⭐⭐⭐⭐ 22 mins ago
Well, I have moved on to a new truck . Mike Toler is the only place I would consider for anything Mopar. I traded in my older Ram for a new one. The process was painless. I was taken care of with trade in process and new purchase. All my needs where met and any concerns with new truck were well taken care of. I highly recommend Mike Toler Chrysler Jeep Ram if shoping for a new vehicle.
⭐⭐⭐⭐⭐  6 days ago
Professional in all regards. Helpful, first rate customer service. Recommend Mike Toler. I will return for all my vehicle needs.
⭐⭐⭐⭐⭐ 2 weeks ago
Polite (non-pushy) and service driven members, great mechanic work. Chris was my salesman and he was fantastic.
⭐⭐⭐⭐⭐ 16 hours ago
My first time ever purchasing my own vehicle. Mike Webster, Randy, and Sherri all made the experience absolutely incredible and not only got me the car I wanted, but they all worked very hard to get me an outstanding deal as well. If you are looking to purchase a vehicle, look no further.
⭐⭐⭐⭐⭐ 4 days ago
Great staff, super friendly, replied in a timely fashion. Drove from Fayetteville and was in and out. Couldn't ask for anything better!